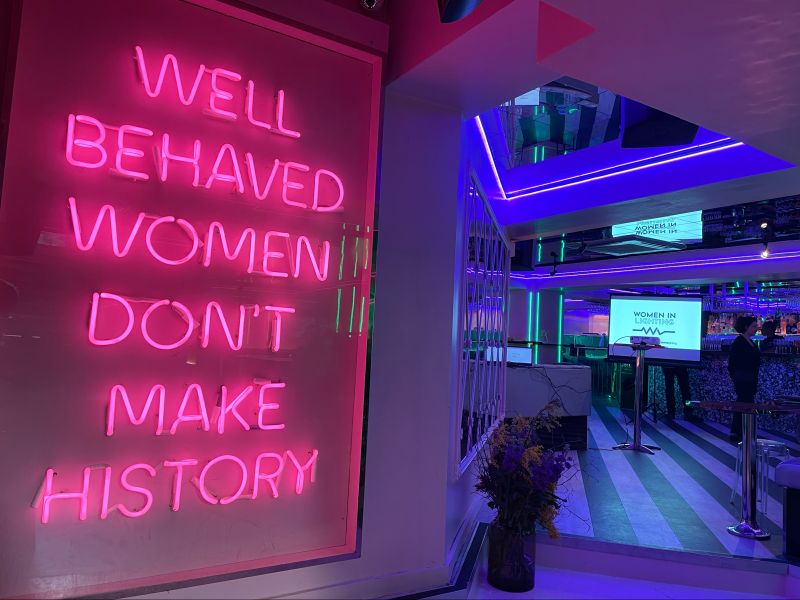 21 Apr

Women In Lighting Event 2022

For International Women's Day this year, Team Parrot joined industry friends for a Women in Lighting client event we helped organise, at trendy London venue – Tonight Josephine Waterloo.

Our brief was to create an event which provided an informal space for friends of WIL (Women in Lighting) to drop in and out of, with a relaxed atmosphere and leave guests with lasting memories. What's more they could watch the Global Gathering at the same time, surrounded by industry friends.

We concentrated our efforts on finding the perfect location, which had strong links to feminism and women's history. Tonight Josephine was perfect – female empowerment is integral to the venue, evident from the array of motivational neon quotes adorning the walls. One of which says 'Well Behaved Women Don't Make History' – and we couldn't agree more!

A wide range of pastries were served throughout the morning, alongside barista made coffees, complete with a branded barista station, and a branded stencil for the milk froth adorning the client's logo. Great coffee – and on brand!

With a gentle flow of guests throughout the day, canapé's, Prosecco, and cocktails were available throughout the afternoon and into the early evening.

The event wouldn't have been complete without a memorable takeaway – guests were treated to a goody bag, with a bouquet of flowers (the flowers of which were the official flowers for International Women's Day), Women In Lighting stationary, a tote bag and other treats.

Team Parrot, with our extensive experience in events management, were delighted to plan the day down to the finest detail and were on standby throughout to ensure the event ran smoothly – and most importantly, that we had happy guests, and happy clients.